Inflatable bouncy castle hire in Swansea
Swansea Bouncy Castle hire has a massive range of top quality, fully tested bouncy castle hire options in and around Swansea. We are your one-stop for party entertainment for all ages and occasions. Our range of themed bouncy castles, inflatable slides, soft playsets, and assault courses are listed below.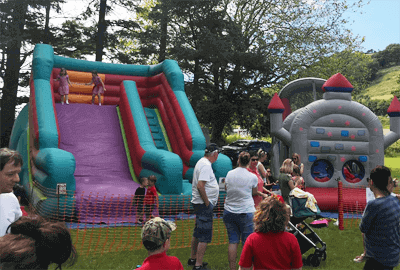 The castles below are all perfect for children's birthday parties, and like every other castle in our range is available for hire across Swansea. We use quality inflatables from long-standing manufacturers with a proven track record of safety.
Toddler Bouncy Castles, Standard Bouncy Castles, Party Bouncy Castles, Indoor Party Bouncy Castles, Wedding Day Bouncy Castles, Bouncy Castles with Slides, Activity Bouncy Castles, Adult Friendly Bouncy Castles we have them all.
Special discount rates on bouncy multiple castle hire
To save even more money on bouncy castle hire Swansea all you need to do is hire softplay with a castle or giant garden games with a bouncy castle or slide. The more you hire the more you save.
Bouncy Castle Hire Swansea for Any Occasion
If its a birthday, children's party, garden party, bbq, community sporting event, charity event, youth club, galas, weddings, communion, Agri shows or private function WE HAVE IT ALL
Swansea Bouncy Castle Hire has tried to cater to the averaged sized gardens we have 12x12ft units and 12x15ft units which are extremely popular because we can get them through houses and into your back garden or front garden. We do have all sizes of bouncy castles and slides etc for any occasion.
Safe Bouncy Castle hire in Swansea
**ONE OF FEW BOUNCY CASTLE HIRE COMPANIES THAT ANNUALLY TEST THEIR CASTLES TO MEET CURRENT HEALTH AND SAFETY STANDARDS**
If you want Soft Play Hires well as a bouncy castle or inflatable slide for your birthday party then view our selection of Soft play hire here.

For questions about our child-friendly bouncy castles, or any other inflatables in our range, you can call us to discuss your requirements on 07821 789608