Hot Tub Hire Swansea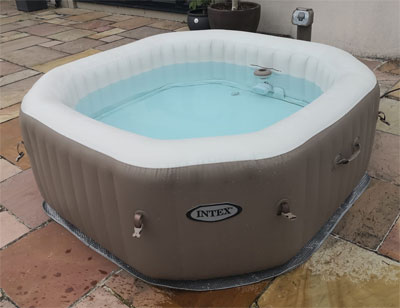 Last Summer We launched our Hot tub hire service across Swansea, Mumbles, the Gower in Glamorgan. The inflatable hot tubs available for hire is 4 and 6 person tubs that use quality, durable materials that ensure quality hot tub service that will bring relaxation and fun to your week or weekend hire. Renting a modern hot tub for an event or simply for your own personal enjoyment in the back garden etc, is increasing in popularity this summer across Wales. Give Hot Tub Hire Swansea a call today on 07821 789608
We ensure that every aspect of the tub's delivery and maintenance is taken care of. Advising you on how to look after the hot tub for as long as its yours, will allow you to keep relaxing and making the most of the time that it is with you. Hots tubs are mean to be relaxing after all!
Hire bookings / How does it work?
Phone now for West Wales Hot Tub Hire bookings in Swansea, Mumbles, the Gower and Bridgend. Please Call today.
Drop of Thursday and pick up Monday.
4 man hot tub £160.
6 man hot tub £180.
Weekly hire
Monday to Monday or can be worked to fit your needs.
4 man hot tub £195.
6 man hot tub £215.
Easy hot tub hire set up
We require the following:
Water source and power socket needed,
Flat surfaces like grass patio or tarmac
If gravel is the only area you have
Please ask and we can bring mats.
We will supply waterproof x lead and hose pipe if needed.
All chemicals and filters will be supplied and a step-by-step of how to use everything
Hot Tub Hire Terms & Conditions
You can cancel your hire up to 14 days before hire. Anytime after this will result in us keeping your deposit.
The hot tub and accessories are 100% your responsibility whilst on hire. Any damage will result in us keeping your deposit.
Children under 12 years old must be supervised at all times.
Pregnant woman must only use the hot tub if the temperature is 38 degrees or less.
If your experiencing errors on the machine which can not be fixed using our USER GUIDE please contact us ASAP and we will either come and fix or arrange a replacement.
If we can not sort any issues your experiencing and the problem is our fault we will part refund or offer a free hire where available.
Swansea Bouncy Castle Hire has the right to cancel a hire at any time. A full deposit refund will be given if this happens.
---
As well as Hot Tub Hire Swansea we offer bouncy castle hire and party catering in the area.